Firm Name

KOHWA SOHGOH LAW OFFICES
Address

5F Yoei Kohwa Bldg.
4-7-15 Akasaka Minato-ku Tokyo 107-0052 Japan
Access
Moving business forward together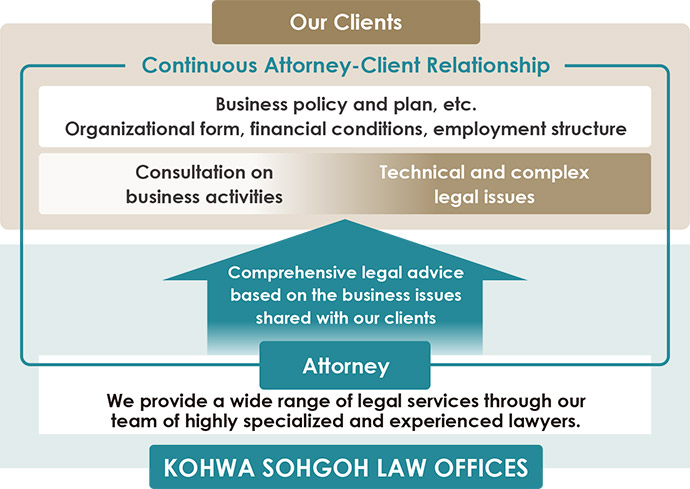 Our team of highly specialized and experienced lawyers
Some of our members have experience of working at private companies or public agencies; others have studied abroad. We provide legal services organically combining each specialization.
After assessing the scale and complexity of the case, we will form a team of highly specialized and experienced lawyers best suited to our client's needs. . Our process allows us to deal with technically challenging and complex cases.
Share your concerns about business management
We analyze our clients' structure, ability or potential avenues of action from various angles, including business policy, operation, organizational form, financial conditions, and employment structure. We predict future legal issues, and support our clients in the creation of comprehensive measures.
Encourage to retain a legal advisor
An ongoing legal advisory agreement will enhance the close relationship between our clients and attorneys.
We provide comprehensive legal judgements that reflect the true interests of our clients in light of a business management perspective.
Provide support to and perform functions on behalf of the legal department
We provide our clients with dedicated service. We will cooperate with the company's legal department, and deal with legal issues regarding daily operation, and the prevention or resolution of conflicts.
As for companies which haven't set up a legal department, we can take care of that function.